Projetex 9.0 Released! The New Version of the Leading Translation Management Software!
Vladimir Pedchenko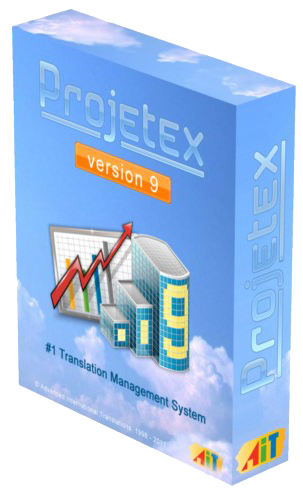 Projetex 9.0 Released!
The brand new version of our leading translation management software is already here!
What's inside? In addition to an already great set of features, we have conducted a complete re-work of both interface and database parts:
Projetex 9.0 comes with Full Unicode support!
it means that each and every data piece in the whole application can be entered in many languages.
You do not have to switch locales anymore! You will not see ????? signs instead of your local language and can enter client data, project data, and freelance data in many locales simultaneously: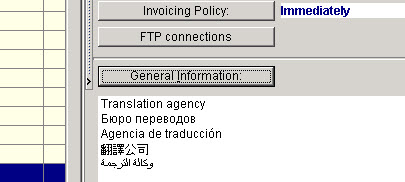 The database engine was upgraded!
While we have used good old Firebird 1.5 until Projetex 8.0, the time has come to upgrade to the latest Firebird 2.5.1 SuperServer:

"The open-source Firebird® relational database management system performs excellently and scales impressively, from an embedded, single-user model to enterprise-wide deployments with multiple 500+Gb databases running with hundreds of simultaneous clients. Database up to 20 Terabytes supported"

"Firebird is free for commercial and educational usage: no license fees, installation, or activation restrictions. No double licensing – Firebird license is based on Mozilla Public License. It is used by approximately 1 million software developers worldwide."
"High performance, small footprint, supreme scalability, silent and simple installation, and 100% royalty-free deployment, and ability to create a backup copy without stopping database make Firebird a highly attractive choice"
Source: http://www.firebirdsql.org
Other enhancements include:
Upgraded architecture, enabling fast deployment of new features on your request;
Enhanced scheduler;
Upgraded export engine;
Enhanced reporting engine;
Upgraded import utility;
Virtualization support;
Projetex 9.0 Released with Multiple bug fixes and enhancements. Currently, we have a special promo offering 20% off new licenses and upgrades:

Time to upgrade your business processes has never been so right!

Click Here to save and start preparing for 2012!

Enjoy and feel free to e-mail us with any questions you may have at support@projetex.com

After upgrade to 9.0, you are eligible for free upgrades to all the future minor versions. You are welcome to participate in its further development by suggesting new features and enhancements.

P.S. If you are new to Projetex, feel free to download it and try all its features. You may also request a free online presentation by a member of our staff, or start a chat with one of our team members (when available).

P.P.S. If you have read so far, feel free to save an extra 10% (a total of 30%!) by requesting a bank wire transfer invoice from our accounting department. Just write to Aleksander Zhyla at aitaccounting@translation3000.com We would rather make a discount to you than pay our credit card processing company 🙂