Description
Projetex is a comprehensive translation management system for translation agencies of any scale.
Projetex was specifically designed to help translation bureaus organize sales processes, manage leads, clients, jobs, projects, applicants, and employees, and handle accounting and finances. With a smart translation management system, you can reduce the costs of repetitive tasks by performing them automatically.
Develop sales opportunities
The primary goal of salespeople in a translation agency is to identify and qualify sales leads, then close deals that turn those leads into paying clients. The Prospects module in Projetex helps salespeople reach this objective.
In the Prospects module, you can add leads and complete their profiles with contact information, marketing and business information, and pricing—and you can even create quotes. Then you can follow up with these leads, make records in the system, set statuses, send emails, and respond to changing situations flexibly and promptly. When it is time, you can convert a prospect into a client with just a few clicks.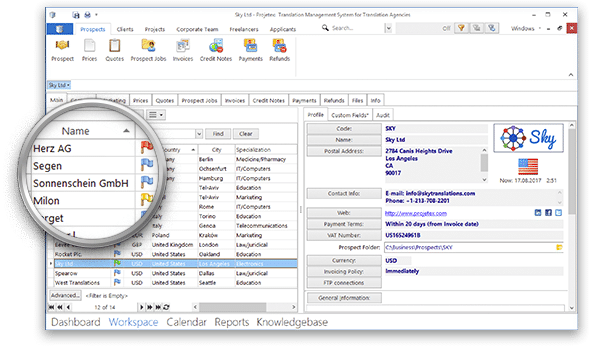 Determine how much to charge
Projetex allows you to create a general price list for all your customers to ensure consistent pricing. At the same time, you can adapt your pricing policy on a case-by-case basis by creating individual price lists for each client.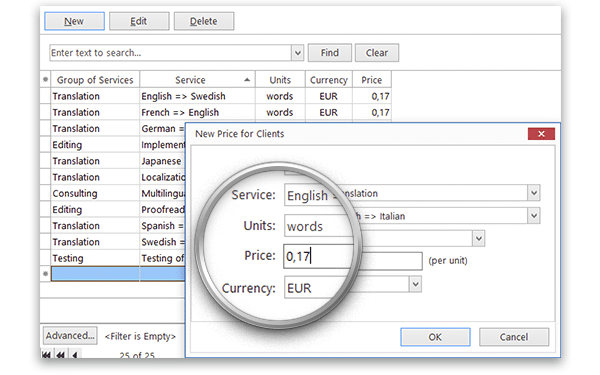 Use multiple currencies
Benefit from support for multiple currencies. Assign a currency to each client, prospect, applicant, or freelancer. The exchange rate auto-update feature automatically downloads the latest exchange rate data from the internet and applies it to future jobs.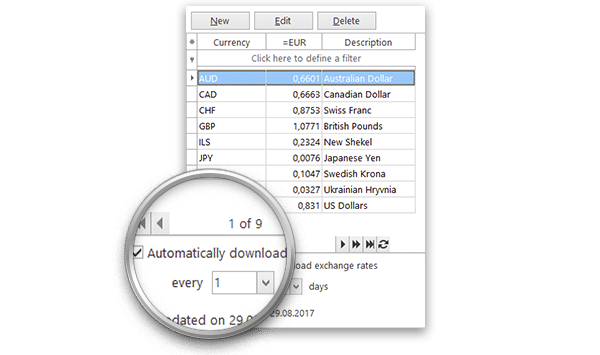 Make trustworthy estimates
Estimate a translation job with the built-in word and character counting tool AnyCount. Get counting results for the body of a document and for its challenging parts such as comments, headers, footers, and hidden text. Give your clients accurate estimates for any language, whether in the Roman or Cyrillic alphabet, Arabic script, or Chinese characters. Even if you get an image in GIF, PNG, BMP, JPG, or PDF format, you will be ahead of the game—AnyCount delivers results in a matter of seconds.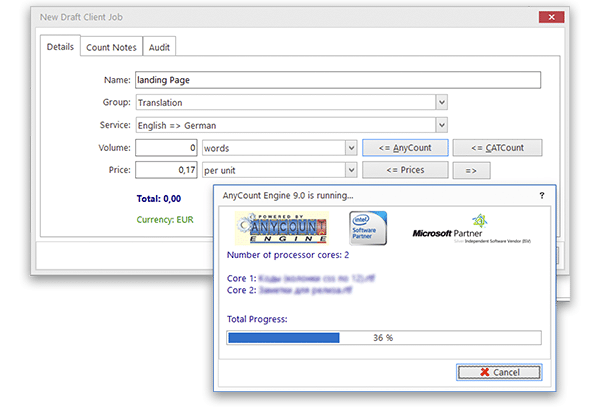 Create successful quotes
The Projetex translation management system supplies you with professional quotes that indicate the services you offer as well as prices, taxes, and deadlines. You can assign discounts to get a competitive advantage or to encourage customer loyalty and make your offers more attractive.
You can also add project details and statuses to follow the progress of negotiations and feel confident when answering your customers' inquiries.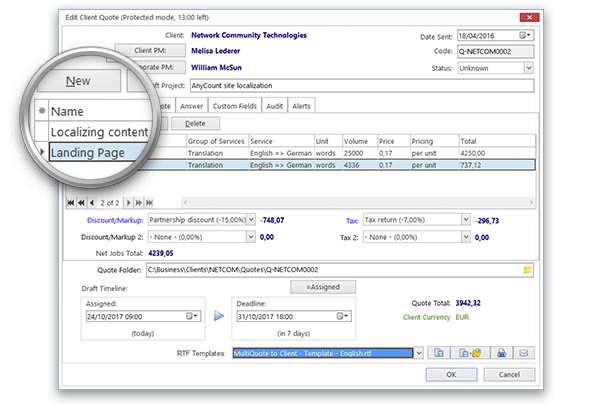 Save time with templates
Use templates for Projetex documents and save them in RTF, DOC, or PDF format. You can choose among several layouts for accounting documents, price lists, invoices, payments, and job summaries. You can easily edit existing templates or create your own to meet your agency requirements.
Facilitate your work with the Mail Sender
Make your email communications efficient with the built-in Mail Sender. Not only can you create a printable document with templates, you can also send it to your prospect, client, or freelancer via email. The documents window in Projetex now features an envelope button so you can create an email with a click.
Projetex 3D version includes handy email templates so you can speed up the writing of courteous and formal business emails.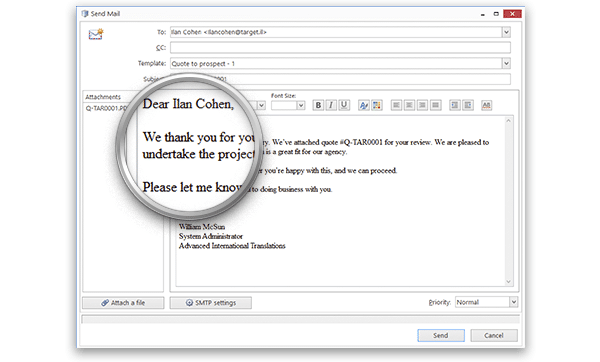 Develop your business with a client database
Build strong customer relationships using the full potential of the database in your translation management software. Add customers' contact, payment, and marketing information, and make notes about future projects. Projetex keeps a complete history of finished projects, which helps you determine the profitability and relative importance of each customer to your business.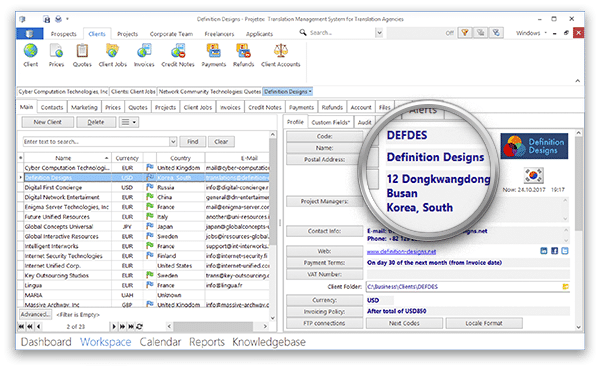 Distribute tasks effectively
Handle the project management workload using the Product Lines feature. You can split large client projects into several product lines and assign each to the appropriate specialist.
Project managers can also distribute client jobs across in-house and freelance translators. Projetex offers a tree-like view of tasks in each project so you can easily see a clear division between jobs assigned to freelancers and jobs assigned to corporate experts.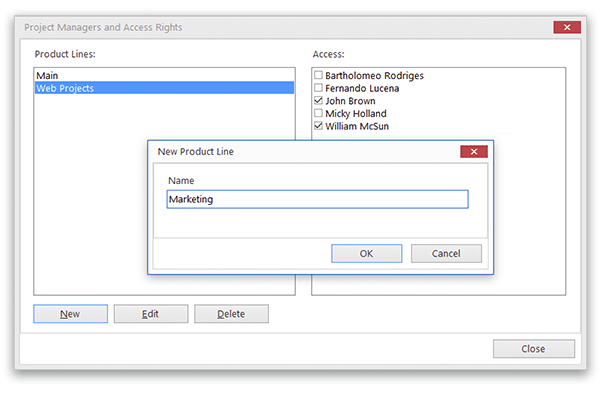 Improve recruiting processes
Projetex assists HR managers with recruitment and selection in the Applicants module. HR managers can collect essential data about candidates, including their CVs and rates, along with comments, all in one place. Then they can analyze and evaluate this information to fill vacancies with qualified candidates and choose specialists who meet the requirements of a particular project.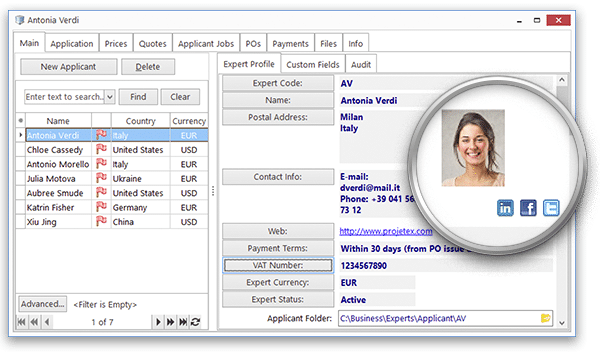 Manage freelance experts
Use our translation project management software to assign tasks to the right freelancers. Projetex offers comprehensive search so you can find the best specialist for a job. You can select specialists based on their skills, rates, performance, and number of completed tasks.
You can group experts into a Freelance Team to work on a particular project. Later, you can choose experts from that team and assign them to particular tasks.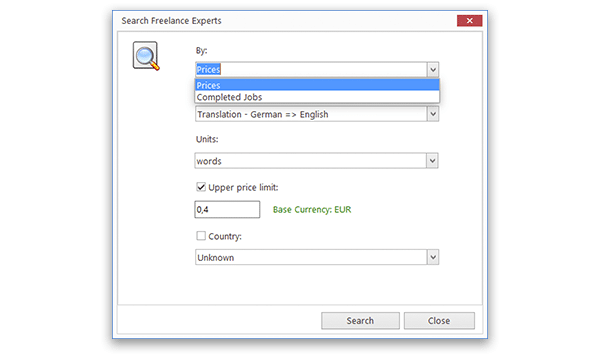 Follow projects and deadlines
Projetex helps you prioritize jobs and deliver work on time. Obtain all the information you need about projects and follow their progress in a table or calendar format.
Get a clear picture of what is relevant today by looking through the calendars of client, corporate, and freelance jobs and projects. You can also open a table view for further details such as job and project codes and names, statuses, types of services, volumes, rates, currencies, product lines, and more.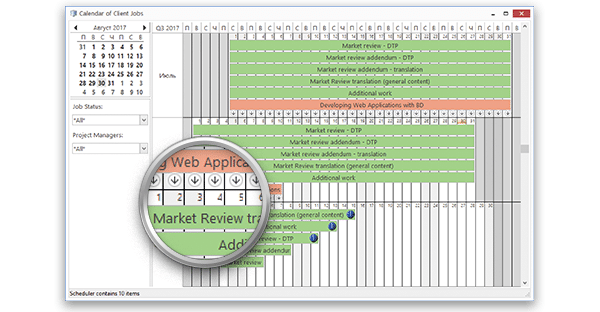 Create invoices easily
Projetex prepares professional invoices in a matter of seconds. You can charge one or several jobs, apply taxes, discounts, or markups, make adjustments to the final sum, specify payment methods, and send documents to a client by email. You can also perform mass invoicing for all uninvoiced jobs or selected jobs, saving a great deal of time.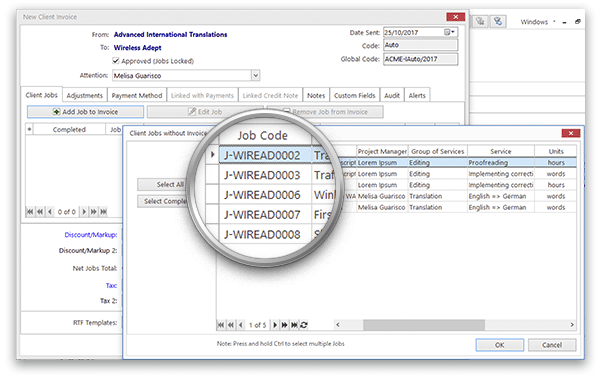 Issue credit notes and refunds
At some point you may need to issue a credit note to correct a mistake—for instance, if you have overstated an invoice amount or applied an incorrect discount rate. In many countries, laws prohibit amending an issued invoice directly, so you need to create a special document to make these changes. Projetex allows you to do that. If you have already received a payment, you can issue a refund to compensate the client.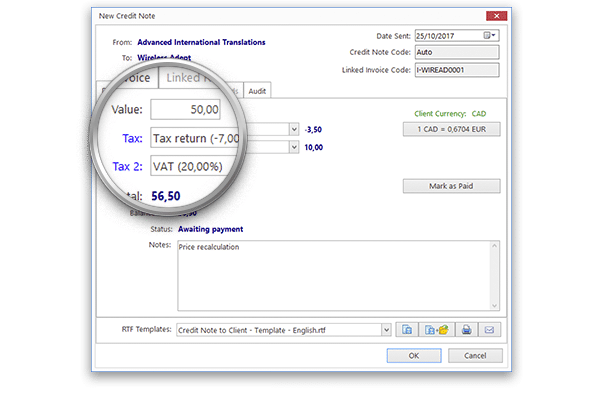 Explore the state of your business
Get statistics about your business with Static (or Classic) and Dynamic reports. Static reports give an overview of sales per customer, projects and services provided, and invoices and payments. They also let you analyze your team's productivity and performance.
Dynamic reports are presented in the form of a "Pivot Grid" so you can create a report that satisfies your needs by dragging and dropping indicators.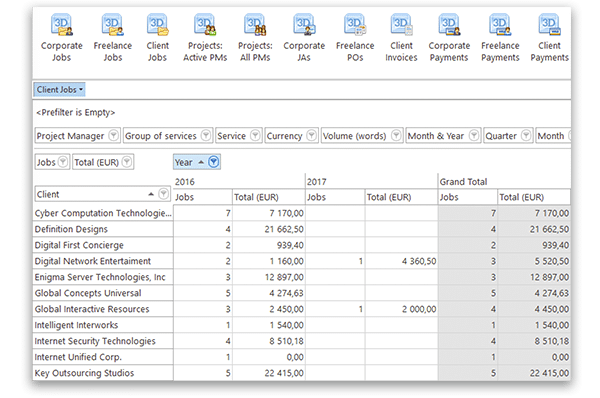 Observe essentials at a glance
Get a bird's-eye view of your translation agency's performance. Arrange widgets on the Dashboard to see a summary of jobs and projects, approaching deadlines, outstanding invoices, and purchase orders.
You can drag and drop widgets to arrange the view according to your preferences. Double-click any widget to open a window with detailed information.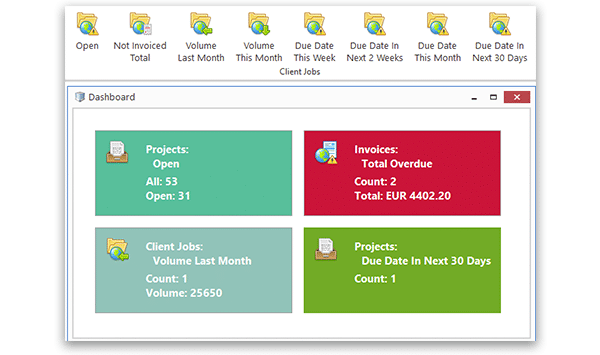 Collect work-related materials in the Knowledgebase
Use the Knowledgebase to assemble and get instant access to personnel files, corporate policies, guides, manuals, and other reference documentation. Projetex comes with six separate directories: for the entire team, for project managers, for in-house experts, for sales specialists, for HR managers, and for accountants. Team members can add and use information according to their access rights.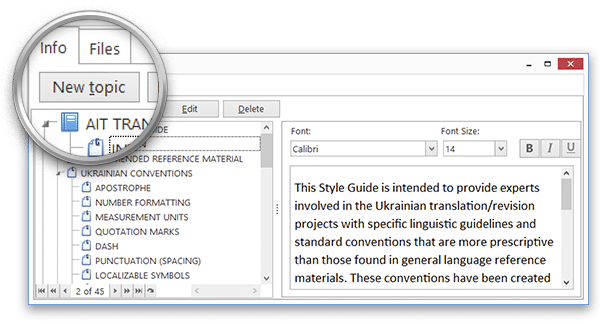 Find what you are looking for
Use the Global Search feature to search records across the entire database. Configure filters to find people or documents, set a timeframe within which to search, and select modules of the software you want to explore.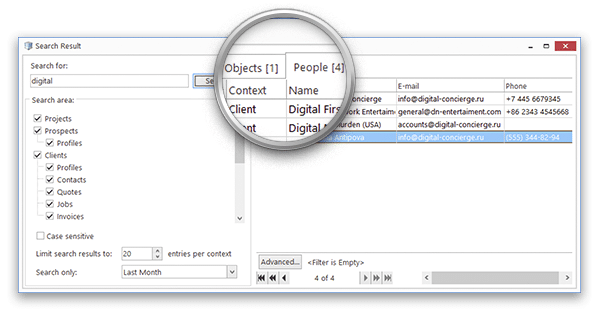 Manage access rights
Provide your team members with access rights according to their job responsibilities. You can choose among "advanced," "normal," and "corporate expert" user roles. You can also pick parts and modules in your translation project management software that will be visible to a given user.